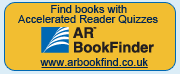 Parents of students in years 7 and 8 are actively encouraged to register with Accelerated Reader.
What is Accelerated Reader?
Accelerated Reader is a powerful tool for monitoring and managing independent reading practice. With Accelerated Reader, teachers can create a reading programme to meet the needs of every student. Renaissance Home Connect improves the school-to-home connection by allowing parents, carers and students to log in to a website and view the student's practice and progress towards targets.
How can I access this site?
If you would like to see your child's progression within the programme please go to https://ukhosted5.renlearn.co.uk/1963148/homeconnect/
and login using the same username and password as your child. This is commonly their school username with a password of their initials.
Where can I get assistance or more information?
For more information or help with the site please contact our Learning Resources Officer Mrs Charlton in the school library or email her at:
charltong@saintgeorgescofe.kent.sch.uk